This is an archived article and the information in the article may be outdated. Please look at the time stamp on the story to see when it was last updated.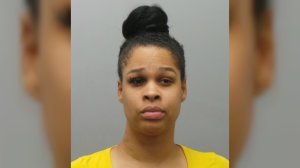 ST. LOUIS COUNTY, Mo. - The St. Louis County Prosecuting Attorney's Office charged a 31-year-old woman Tuesday with shoplifting inside a Menards and then striking a store employee with her car in the store parking lot.
The incident occurred on the evening of Wednesday, September 25, at the Menards on Manchester Road.
According to prosecutors, Debbie Penn entered the store with her five children. They walked around the store and loaded a shopping cart with merchandise. Penn allegedly distracted a manager while the kids pushed the cart out of the store.
While Penn and the kids loaded the merchandise in their car, employee Michelle Arthur followed to speak with Penn. A man in the parking lot used his phone to take pictures of the incident.
Police said Penn snatched the man's cellphone and scratched his face in the process. Arthur stood in front of Penn's vehicle to prevent her from leaving the parking lot. Penn got in her car and drove into Arthur.
Arthur struck her head on the concrete and suffered multiple skull fractures and a brain bleed. She remains in critical condition at a hospital.
Witnesses helped investigators identify Penn as the suspect and Penn was eventually taken into custody.
However, the father of Penn's four kids says police have it wrong. Penn's boyfriend, who identified himself as David, told our news crew that police have the wrong person behind bars.
"I'm sorry about whatever happened to the family but I actually believe they have the wrong person," he said. "I can't say my woman did that."
Fox 2 showed him video from the scene. After reviewing the video, David said it's not Penn.
"I know for a fact that's not my woman. I'm going to fight that," he said. "It's a bad situation. My kids are devastated. Don't nobody know what's going on."
Prosecutors charged Penn with first-degree robbery, armed criminal action, stealing, and fourth-degree assault. She's being held a $250,000 cash-only bond.
Penn's family said the will hire an attorney to try and fight the case.