This is an archived article and the information in the article may be outdated. Please look at the time stamp on the story to see when it was last updated.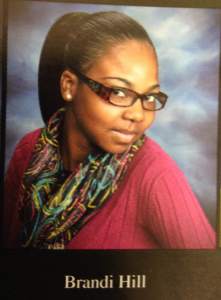 ST. LOUIS, MO (KTVI) - A woman was shot and killed Sunday evening in downtown St. Louis.
Police said the shooter left 21-year-old Brandi Hill's body in the middle of the street and sped off with her infant child still inside the vehicle.
Investigators said Hill, her 9-month-old daughter, and a friend were driving east on Washington Avenue near 11th Street around 10:30 p.m. when two black men approached their vehicle on foot and demanded the keys to the car, a 2015 Dodge Challenger.
The suspects opened the passenger-side door and pulled the victim's friend out of the car.  One of the suspect's then shot Hill, walked around to the driver's side and pulled her from the car, leaving her in the street. That suspect then fled in the victim's vehicle with the child still inside. The second suspect ran to the car at 11th Street and then jumped in the car.
The suspects later left the child at Angelica and 22nd.  Chief Dotson said the the baby was found a few blocks from Fairground Park safe, unharmed, and still in the car-seat.
Detectives said they found the Dodge Challenger on Bremen Avenue, not far from Hyde Park.  The vehicle was recovered unoccupied.
Police released video of both suspects wanted in the  fatal shooting. The suspects are facing charges of first-degree murder, assault, kidnapping, and robbery.
Hill, an O'Fallon resident, was a 2013 graduate of Fort Zumwalt South High School. She also attended Fort Zumwalt West, where she belonged to the track team.
Anyone who recognizes these suspects is urged to call CrimeStoppers at 866-371-TIPS. All calls are anonymous and tips leading to an arrest are eligible for a reward.