This is an archived article and the information in the article may be outdated. Please look at the time stamp on the story to see when it was last updated.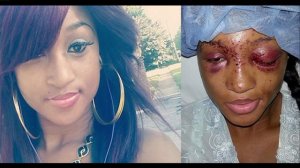 ST. LOUIS COUNTY (KTVI) – A St. Louis County woman who says she was in the wrong place at the wrong time during the Ferguson riots says her life has been changed forever.
"When I got shot, I thought I was dead; but at the same time, I was still breathing and I was terrified," said Dornell Conner.
Nearly two years after Michael Brown's death that sparked movements across the world, Conner said the anniversary for her will be a day of reflection and remembrance. Conner was two months pregnant when the grand jury decided not to indict former Ferguson police officer Darren Wilson in Brown's shooting death sparking the riots in St. Louis.
Conner, 25, said she was in Ferguson sitting in a friend's car—not protesting—when St. Louis County police responded to a disturbance there.
"The tank pulled up in front of the car, so there was nowhere for us to move and next thing I know I got hit in the face. I just start praying and asked, 'God please let me keep my child. She is innocent; I'm innocent.' I got shot for no reason. I didn't do anything," Conner said.
A bean bag round fired into the vehicle shattered the front passenger side window hitting Conner in the face. Conner said surgeons removed 20 pellets from her face. Conner lost her eye.
"The doctors came in and said, 'We cannot save your eye. We will have to remove it,'" she said.
Conner's unborn child was unharmed. Since last November, she has been unable to keep a steady job. Her family is now homeless.
Conner has filed a lawsuit against the St. Louis County Police Department for her injury.
"I'm thankful that I'm alive," said Conner.
Conner's boyfriend was behind the wheel of the car. He was charged with trying to run over police officers. Charges that were later dropped.
A lawyer for St. Louis County said they cannot comment on a pending lawsuit.