This is an archived article and the information in the article may be outdated. Please look at the time stamp on the story to see when it was last updated.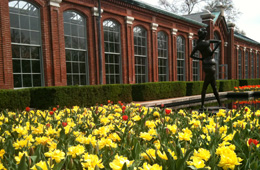 ST. LOUIS (AP) _ Crews restoring a St. Louis building that predates the Civil War never expected someone to be peering back at them when they knocked out part of a dropped plaster ceiling.
The St. Louis Post-Dispatch reports that two portraits of historic men were found on a ceiling in the Missouri Botanical Garden's "museum building" built in 1859.
One of the portraits is of German-American botanist George Engelmann, who was a good friend of legendary St. Louis businessman and philanthropist Henry Shaw. Another portrait is of Carl Linnaeus, an 18th-century Swedish researcher known as the father of the system of classifying and naming organisms.
Workers also found what they believe is a third ceiling portrait that has since crumbled away. Conservators will take a look at that.