This is an archived article and the information in the article may be outdated. Please look at the time stamp on the story to see when it was last updated.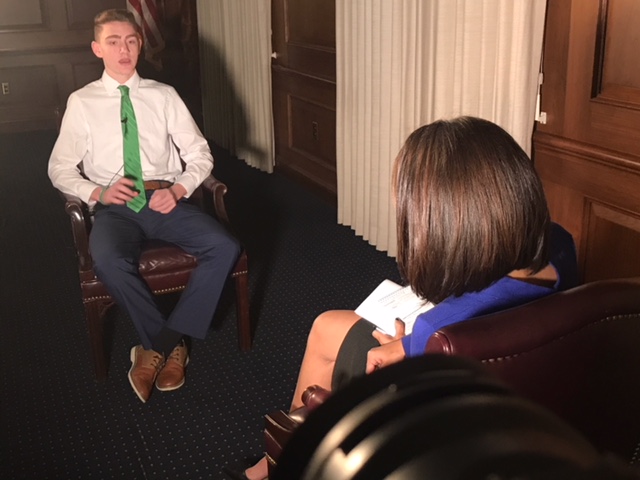 ST. LOUIS – Arnold police officer Ryan O'Connor is still in the hospital more than a week after being shot—and nearly killed—by a burglary suspect.
His oldest son, Aidan Gansner, spoke to Fox 2/KPLR 11 about prayers, strength, and the family's message for the community.
"It was…it was just horrifying. I was worried for my brothers, I was worried for my mom. I was worried for me," Gansner said. "I can't describe how upset and scared I was."
Gansner, the 17-year-old stepson of Officer O'Connor, said he was almost finished with school on December 5 when he learned about the shooting.
"…It was my last hour and we're about halfway through, and my principal came in," he said. "He was talking with my coach, and then he said, 'You need to come with me.'"
"He took me into his office, and he said, 'Look, I don't know any details. I just know that something happened with your dad. And we need to get to the hospital.'"
Two St. Louis County police officers picked Gansner up from school and drove him to St. Anthony's Medical Center.
"And I was walking, right before I got to where he was at, I looked up at the TV and I saw 'Arnold Police Officer Shot.' And it all just kind of clicked; that, 'oh my gosh, it actually happened,'" he said. "And obviously I broke down and I was really, really upset."
Anyone who knows him says O'Connor is more than a police officer; he's a devoted husband and father of four children. He's also a true fighter while he remains in critical condition.
He has shown signs small signs of progress in the past week.
"Everybody is asking me, 'How's he doing? How's he doing' Lots of these people don't even know him. They don't know who he is. They don't know the Ryan that we know," Gansner said.
The Ryan O'Connor Gansner knows is more than a father figure or friend.
"Ryan is the inspiration for my whole life," he said. "The reason I wanted to be a police officer."
Meanwhile, Gansner, who wants to one day wear the badge himself, wears a wristband as a sign of hope as he prays for his stepfather on the road to recovery.
"I don't see the end being anywhere close to the future," he said. "You don't ever want to think like that. He's going to pull through. I know he is."