This is an archived article and the information in the article may be outdated. Please look at the time stamp on the story to see when it was last updated.
JACKSONVILLE, Fla. (AP) _ The neighborhood watch volunteer who
shot 17-year-old Trayvon Martin was arrested and charged with
second-degree murder Wednesday after months of mounting tensions
and protests across the country.
George Zimmerman, 28, could get up to life in prison if
convicted in the slaying of the unarmed black teenager.
Special prosecutor Angela Corey announced the charges but would
not discuss how she arrived at them or disclose other details of
her investigation, saying: "That's why we try cases in court."
Second-degree murder is typically brought in cases when there is
a fight or other confrontation that results in death but does not
involve a premeditated plan to kill. It carries a mandatory minimum
of 25 years behind bars when a gun is used.
Martin's parents expressed relief over the decision to prosecute
their son's killer.
"The question I would really like to ask him is, if he could
look into Trayvon's eyes and see how innocent he was, would he have
then pulled the trigger? Or would he have just let him go on
home?" said his father, Tracy Martin.
Corey would not disclose Zimmerman's whereabouts for his safety
but said that he will be in court within 24 hours, at which point
he can request bail. He turned himself in in Florida.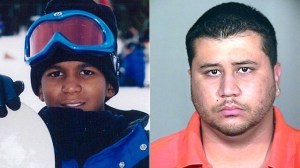 Zimmerman's new attorney, Mark O'Mara, said: "I'm expecting a
lot of work and hopefully justice in the end." On Tuesday,
Zimmerman's former lawyers portrayed him as erratic and in
precarious mental condition. But O'Mara said Zimmerman was OK:
"I'm not oncerned about his mental well-being."
Zimmerman, whose father is white and whose mother is Hispanic,
has asserted since the Feb. 26 killing in Sanford that he shot in
self-defense after the teenager attacked him. Martin's family
argued Zimmerman was the aggressor.
The shooting brought demands from black leaders for his arrest,
touched off protests in which people wore hooded sweatshirts like
the one the teenager had on, and set off a furious nationwide
debate over race and self-defense that reached all the way to the
White House, where President Barack Obama observed: "If I had a
son, he'd look like Trayvon."
Separately, the U.S. Justice Department's civil rights division
is conducting its own investigation.
Corey said the decision to bring charges was based on the facts
and the law, declaring: "We do not prosecute by public pressure or
by petition."
One of the biggest hurdles to Zimmerman's arrest over the past
month was Florida's "stand your ground" law, which gives people
wide leeway to use deadly force without having to retreat in the
face of danger.
Corey repeatedly declined to answer questions about details in
the case. "So much information got released on this case that
never should have been released. We have to protect this
prosecution and this investigation for Trayvon, for George
Zimmerman," she said.
Tensions have risen in recent days in Sanford, a town of 50,000
outside Orlando. Someone shot up an unoccupied police car Tuesday
as it sat outside the neighborhood where Martin was killed. And a
demonstration by college students closed the town's police station
Monday.
But as the hour of the prosecutor's announcement neared, the
Martin family and their lawyer pleaded for calm.
Around the time of the news conference, 37-year-old Jared Towns
was walking near City Hall.
"This is not closure at all. It's just charges. We'll see what
happens now. I'm happy he was charged. It'sgood for the family.
But they aren't to the justice part of it, yet," he said.
Six weeks ago, Martin was returning to the home of his father's
fiancee from a convenience store when Zimmerman started following
him. Zimmerman told police dispatchers: "This guy looks like he is
up to no good _ he is on drugs or something." At some point, the
two got into a fight and Zimmerman used his gun.
Zimmerman told police Martin attacked him after he had given up
chasing the teenager and was returning to his truck. He told
detectives that Martin knocked him to the ground and began slamming
his head on the sidewalk. Zimmerman's father said that Martin
threatened to kill his son and that Zimmerman suffered a broken
nose.
A video taken about 40 minutes after the shooting as Zimmerman
arrived at the Sanford police station showed him walking unassisted
without difficulty. There were no plainly visible bandages or blood
on his clothing, but Zimmerman may have had a small wound on the
back of his head.
The local prosecutor disqualified himself from the case, and
Gov. Rick Scott appointed Corey, the prosecutor for Jacksonville,
to take it over.
Corey has tried hundreds of homicide cases and is known for
tough tactics aimed at locking up criminals for long sentences and
making it difficult to negotiate light plea bargains. Corey is
known in legal circles as being passionate about victims' rights.
She said she met with Martin's "sweet parents" and prayed with
them.
"We only know one category as prosecutors, and that's a `V,"'
she said at the news conference, referring to victims, and making a
V with her fingers.
___
Farrington reported from Tallahassee, Fla.
(Copyright 2012 by The Associated Press. All Rights Reserved.)