This is an archived article and the information in the article may be outdated. Please look at the time stamp on the story to see when it was last updated.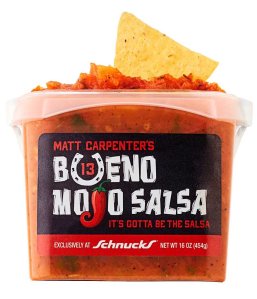 ST. LOUIS, MO — Matt Carpenter's magic salsa is officially on shelves at area Schnucks today.  We've been sampling it and it is good.  It tastes sweet and isn't too spicy.
A representative from Schnucks says that some stores have already sold out at some stores. Other stores won't get their first shipment until this morning. However, all will be receiving limited shipments throughout the weekend.
The salsa shirt is the giveaway at tonight's game.  The first 20,000 fans ages 16 and over will get one.
The Cardinals are on a hot streak during the end of the season. Some say Matt Carpenter's salsa recipe may be the secret to the team's success. Starting this Thursday you'll be able to buy Carpenter's Bueno Mojo Salsa at St. Louis area Schnucks stores.
Adam Wainwright planted a garden in his yard this summer. Carpenter combined some of Waino's veggies in a secret recipe to bring along to a July series against the Chicago Cubs. He set a record during that series with a streak of 12 extra base hits in a row. Several other teammates have been sampling the stuff over the last two months and now the team is now in the top 3 for the National League Central Division.
Schnucks says Carpenter's salsa will be available in the deli section of any St. Louis-area Schnucks store for $6.99. They say Carpenter personally worked with one of their top chefs to package his secret recipe and share it with the entire region.
Schnucks will donate a portion of the proceeds to Cardinals Care.
IT'S SALSA TIME! 🍅🌶🔥Now Available for a limited time. Limit 2 per customer at select stores. View store locations here: https://t.co/2JUJR041Rd #SchnucksMojo #ItsGottaBeTheSalsa #Schnucks @Cardinals @MattCarp13 pic.twitter.com/lH5HXeUlfl

— Schnucks (@SchnuckMarkets) September 13, 2018