This is an archived article and the information in the article may be outdated. Please look at the time stamp on the story to see when it was last updated.
ST. LOUIS, MO- The St. Louis Cardinals are missing  the postseason in back to back seasons for the first time since the 2007 and 2008 campaigns. Unlike in those years, they're missing it in consecutive seasons when baseball has two wild card teams per league, and not just one.
We know the reasons why. Inconsistent pitching, disarray in the bullpen, questionable baserunning, and the lack of middle of the order punch have been alternating factors.
So who will be on next year's team to ensure the return of a Red October? Rick Hummel, the respected beat writer for the St. Louis Post-Dispatch has suggested it would be insanity if the team returns 70 percent of the 2017 roster. I won't go that far, because it would mean only 8 players carry over.  But be prepared for a  new look lineup. Here's a way too early prediction:
Pitching Staff
Rotation: Chris Archer, C. Martinez, Weaver, Wacha, Wainwright
The people in St. Louis are very respectful. @Cardinals have a great fan base. It was my pleasure to perform in front of u. #PlayersWeekend

— Chris Archer (@ChrisArcher22) August 27, 2017
Comment: Without Lance Lynn, this team needs an innings eater. Chris Archer scored some major fan points with his Twitter post when Tampa Bay visited Busch this year. He's pitched more than 194 innings each season since 2014, and has the kind of stuff that could lead a staff and take pressure off Carlos Martinez. He's cost-controlled through 2021 on a very team-friendly contract, which means it will cost something. This is one of the deals that will thin the team's herd of MLB-ready outfielders.
Wainwright obviously has questions to answer in what could be his last year with the club. Alex Reyes seems slated to start the season in the bullpen but could be rotation factor later. Jack Flaherty starts in AAA and is your sixth starter waiting for an opportunity if it opens. Or is he a trade piece?
Bullpen: Bowman, Nicasio, Lyons, Reyes, Brebbia, Cecil, Alcantara
Comment: Your guess is as good as mine here. There are a lot of questions left. Is Nicasio the closer? Do they think Brett Cecil can right the ship after a rocky debut or do they hope they can move him (paying down some of his salary to make it more palatable). Fully expect at least two bullpen arms who weren't on the team in 2017. You won't see such lefty-dominated pen again.
Infield
Catcher: Molina
Comment: If Yadier Molina's performance during the season made some people wonder if Carson Kelly could be a prime trade piece instead of a future fixture, Molina's late season concussion offers a brutal reminder that the team needs to be ready with a strong backup if the worst happens. Other than Kelly, that doesn't exist in the organization right now.
1B: Eric Hosmer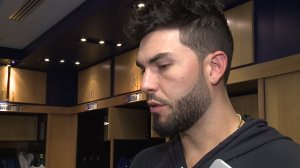 2B: Wong
SS DeJong
3B: Josh Donaldson 
Comment:  The need for big bats in the lineup in 2017 gets solved for 2018. They land Hosmer, a free agent from Kansas City, and Donaldson, a former AL MVP in his walk year, in trade. Jose Martinez impressed in his rookie year, but at this point can't be considered as an everyday first baseman.
Outfield
OF: Pham
OF: Fowler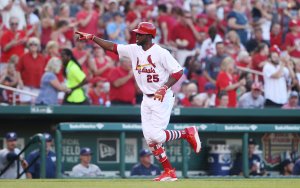 OF: Christian Yelich
Comment: The Cardinals take advantage of the Florida Marlins' expected fire sale and land Yelich, a cost controlled player through 2022. It also yields a net addition as far as left-handed punch in the regular lineup. Is Dexter Fowler willing to play here if he isn't in centerfield? Pham is better defensively there and Yelich has never played in right. Again, the team would likely have to pay down some salary if they want to make a move with Fowler.
Bench
J. Martinez, Diaz, Bader, Gyorko, Kelly
Comment: This is one area where I already know I'm wrong. The team needs a lefthanded bat off the bench and none on this list does that. Diaz offers more potential pop than a Greg Garcia.
Final Thoughts
By process of elimination, you'll notice who isn't on this roster: Matt Carpenter, Randal Grichuk, Stephen Piscotty. Magneuris Sierra, Sam Tuivailala, among others. Prospects like Austin Gomber and Patrick Wisdom too. Is this mix of prospects and major league cost-controlled talent enough to bring in Donaldson, Archer, Yelich and bullpen help? I'll admit that my first instinct is to say the answer is no. And I think longer term, the team would be better suited by targeting Baltimore's Manny Machado (3B entering his walk year, but likely to cost more in trade than Donaldson), and OF Victor Martinez on the free agent market.
But it's up to John Mozeliak and Michael Girsch to find out now.