Missy Elliott's "Lose Control" blared over the sound system of an empty Barclays Center, bouncing off the venue's 19,000 empty seats. The Timeless Torches, the fan-favorite dance group for the Liberty, lined up for rehearsals hours before New York was set to host Brittney Griner, Diana Taurasi and the Mercury earlier this season. These dancers aren't your typical pro sports cheerleaders—all the members are over 40 years old, the oldest in her 80s.
After some stretching the crew took center court, queuing in formation in front of Criscia Long, the senior director of entertainment, who leads the pregame dry run. The same music bellowed out of the speakers.
Thick legs, in shape
Rump shakin', both ways
Make you do a double take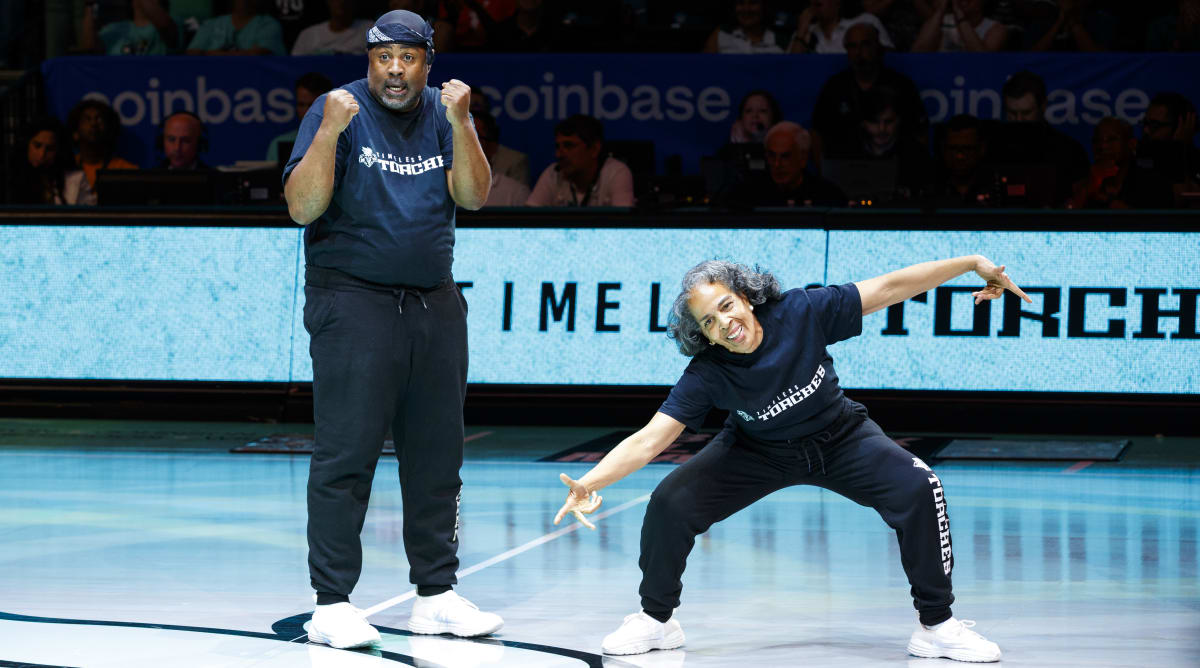 They were all mouthing the words to themselves as they perfected their routine, matching the whispered lyrics to their choreography with focused faces. After a handful of run-throughs, a couple of tweaks and one go at the dance full out, the Timeless Torches retired courtside. Now it was Ellie the Elephant, the Liberty's beloved mascot, and the rest of the professional dancers' turn for rehearsals. (The entire in-game entertainment team runs through their performances ahead of each game.)
The Timeless Torches, ever the burst of positivity, cheered on as their counterparts practiced, with one Torch clacking a colorful fan, as others leapt out of their chairs and danced themselves, hooting and hollering in support. It became abundantly clear why the WNBA, New York City and Brooklyn have fallen completely in love with this joyously nonconformist dance troupe.
---
The Timeless Torches made their official debut in 2005, just eight years after the WNBA's inception—at the time, the Liberty's games were held in Madison Square Garden. Captain Margaret Hamilton has been with the troupe since its inaugural season, at the helm for all 18 years of the dance team's tenure. She joined the Torches by pure coincidence, taking her kids to try out for a dance team of youngsters the Liberty were putting together. While Hamiton was there, she was asked to stay back and try out for the Liberty's older dance squad, to which she obliged, figuring it was, at the very least, a free aerobics class.
"They didn't make it, but I did," Hamilton says of her and her kids' day of auditions (it turns out that was the outcome her family was hoping for). Hamilton was just 35 at the time, with no professional dance background, although she shares memories of her coming home from tap dance class as a young girl, needling her mother with all her pitter-pattering around the house.
"I always have had a love for music," says Hamilton. "It doesn't matter if you speak a different language, but with music, everybody can connect. So whenever I would hear music, I might not understand what they're saying, but I was the one that got up on the dance floor. I would leave when the last song is played."
Hamilton glows when she talks about music, a charming trait she shares with her timeless teammates. This utter joy—which seemingly radiates from an earnest reverence for what they do—is palpable, and apparent to anyone who has watched the troupe perform.

"I always like to move, always doing some type of dance when I hear music, because music is good for your soul," says Neyoka Wells, a co-captain and 15-year veteran of the squad. "When you hear it and it's the right beat, it's like you just start moving, and then all of a sudden, you just find your rhythm and do something."
Wells first moved to New York to pursue her dreams of performing on Broadway. Before her days as a Torch, she was a majorette and participated in some off-Broadway productions. Joining the Liberty's dance team has provided Wells with a much-needed creative outlet to perform.
There are no prerequisites for the group in terms of expertise or experience; the only requirement is to be over 40 years old. The Timeless Torches are unique in that they feature a mix of experienced entertainers, former dancers and novices, with a range of abilities and skills.
"I love to do it; I am a dancer. I am a fitness instructor, so I've been doing a little bit of showing for a while," says Phyllis Spencer, who is in her second year as a Torch. Spencer is the type of performer—and, quite frankly, person—who immediately captivates your attention and holds onto it. Spencer remembers her audition for the group, a process many have described as more collaborative than cutthroat. Still, spots are limited and highly coveted, so Spencer knew she had to bring her all to tryouts.
"She danced like she knew she was in," recalls Long. "She stood right center and she did about 70 splits throughout the whole entire thing."
"High-kick splits," Spencer interjects. "I was like, Someone is going to see me today."
And see her they did, with Spencer quickly becoming one of the most visible and spirited members of the Timeless Torches, often leading the crew in stretches, hip circles and other warm-ups. "My mantra is love yourself better and better," says Spencer. "So I let them know I am over 50 and I can still do it and so can you."
Age is a point of pride for the Timeless Torches, not a shtick. The crew's ethos is actually quite subversive, almost punk rock in its encouragement of bucking societal expectations. Conventional wisdom is that as people age, life gets more complicated, joints get stiffer and the inertia of everyday life becomes harder to overcome, but the Torches reject that concept, literally and figuratively. They express their vitality through movement, but their message is universal: Never give up on the pleasures life continues to offer, no matter your age.
"I feel like the other teams [within the Liberty organization] really look up to Timeless because it's inspiring to see them living their dreams," says Long. "Like it's never too late to start this type of thing. It's also very much living in the moment."
Representing multiple generations (with millennials, Gen X, boomers and the Silent Generation all on the team) and various eras of life, the Timeless Torches look to each other for guidance and inspiration in embracing aging and what's to come. While some people can approach getting older with dread, the Torches tend to look to the years ahead full of hope and gratitude.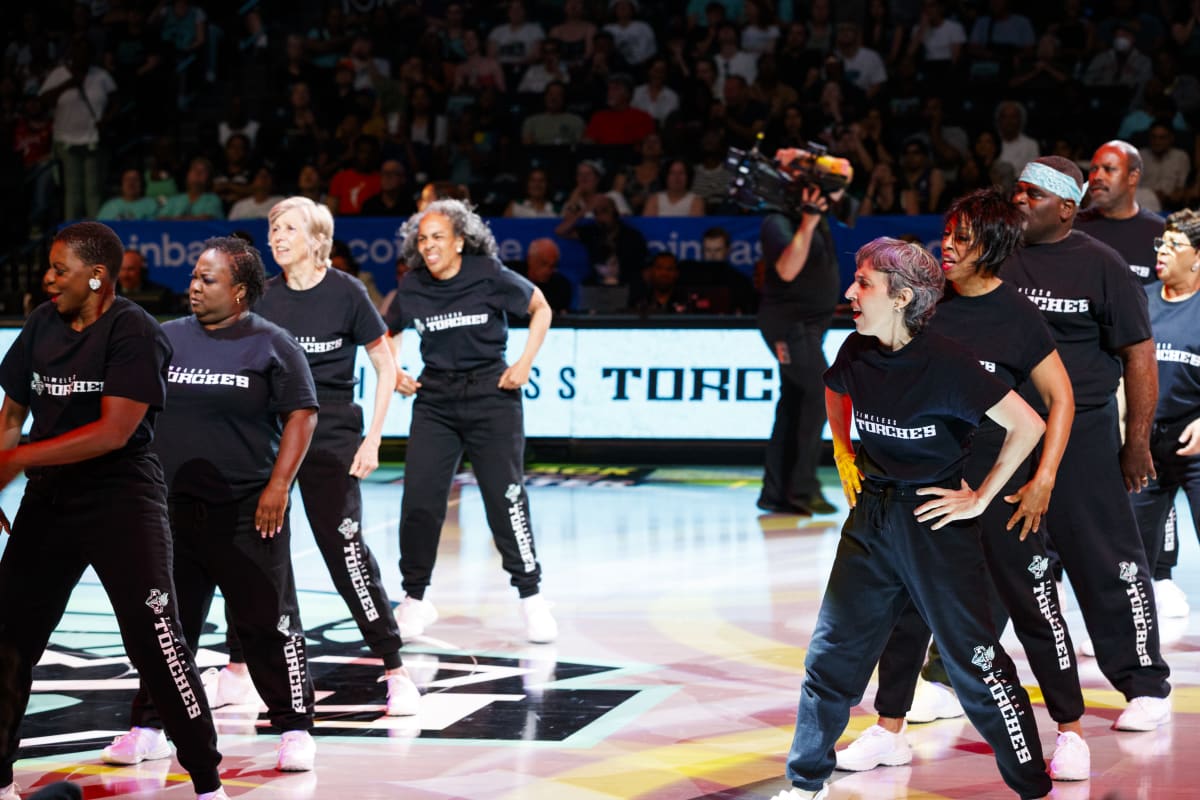 "I aspire to be like some of the other team members," says Wells. "Especially like one of our team members, Miss Shirly. She is our oldest member, she is 85, and she gets on the floor and gives it her all. So I would say to myself 'When I am 85, that's how I want to be.'"
The group is incredibly tight-knit, describing its dynamic as one closely resembling a familial bond. Hamilton recalls a period when Long was away from the team before returning to work with the Timeless Torches. She speaks of their reunion, with tears in her eyes, "Our hearts were filled, because that's how much we love her and what we do." Long reciprocates the admiration, revealing that many of the members have watched her 6-year-old grow up.
The dancers' connection translates to their performances, with each routine featuring a meticulous weaving of bodies, requiring plenty of trust and synchronization. Fueled by the crowd, the Timeless Torches turn it on come showtime, crediting the enthusiastic Liberty fans with helping to elevate their production. While supporters turn up to Brooklyn to catch the newly minted New York superteam, featuring stars Breanna Stewart, Sabrina Ionescu and Jonquel Jones, the Timeless Torches have plenty of fans of their own.
"We have some loyal fans; they love the Timeless Torches. They learn our names; they learn different things about us," says Wells, adding that people have even stopped them at the train station. Hamilton remembers early on a fan approaching her during a Liberty game, telling the Torches that watching them perform helped her out of trying time. "She said, 'Something told me to come to a Liberty game, and by y'all dancing it showed me life is worth so much more,'" says Hamilton.
Treasured by Liberty devotees, the Timeless Torches have established themselves not only as a New York institution, but an integral part of the WNBA's culture. The young league has defined, evolved and reinvented itself in its 27 years, and the Torches have been a small but mighty part of that. Mirroring the W's persistence, flare and metamorphic energy, the Torches are entertainers and pioneers themselves.
"Now, not only can little girls see themselves being on the court coming to the Liberty games, but older people can say, Oh my god, I am 70 but I can still do that," says Hamilton. "So you come in this building, you're stepping into dreams."