This is an archived article and the information in the article may be outdated. Please look at the time stamp on the story to see when it was last updated.
ST. LOUIS, Mo. — The parade and rally celebrating the Blues' Stanley Cup victory will be held on Saturday.
The Cizek family plans to attend both the parade and the rally. The Blues have been a big part of their lives for many years.
"I grew up in the Checkerdome sitting on the floor of the first railing watching the game," Aaron Cizek said.
The parade begins at 18th and Market streets and concludes at Broadway and Market. Fans will likely jam the route in hopes of seeing their favorite players.
"I want to see Ryan O'Reilly and Tarasenko," said Nate Cizek.
The parade will be made up of Blues players, coaches, and staff, as well as a marching band, two floats, and the famed Budweiser Clydesdales.
Early Thursday morning, crews hit the ground running to prepare the Gateway Arch Grounds for a massive rally that follows the parade. A truck loaded with barriers arrived and barriers will help control crowds.
They began planning for the events only a few days ago.
"It's a little bit of a time crunch so we have a lot of people working on this," Arch Public Information Officer Erin Hilligoff said.
Fans should know they will have to pass through security checkpoints to be admitted to the rally. There will be three entrances.
"If you travel light, it will make it a lot easier to get through those checkpoints," Hilligoff said.
It's recommended fans ride MetroLink downtown. If you do drive, people should know the exit going westbound on the Poplar Street Bridge to Walnut will be closed. And the exit from I-44 northbound to Walnut will also be shut down. Those closures occur at 11 a.m. Friday and reopen Sunday evening.
There will be some food and drink for sale. The parade is expected to last anywhere from 60 to 90 minutes.
Parade route: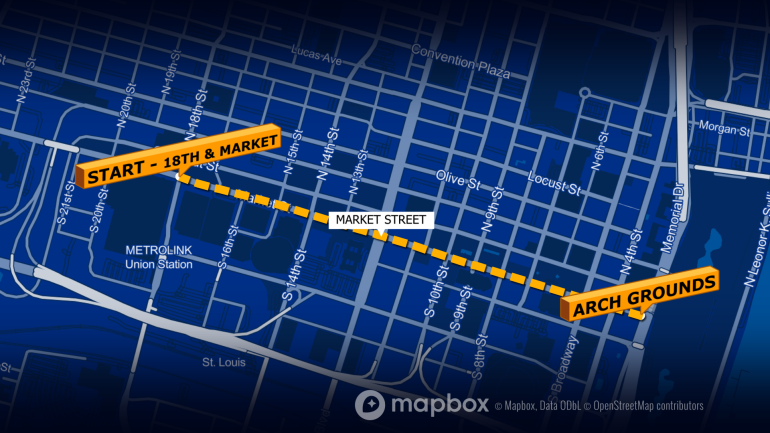 Your #stlblues are champions!!! Celebrate with us Saturday at the 2019 Blues Championship Parade & Rally!

The parade will start at noon at 18th St. & Market St., and end at Broadway & Market St. The rally will take place after at the Gateway Arch.

More details to come. pic.twitter.com/zHu7lzT6XR

— St. Louis Blues (@StLouisBlues) June 13, 2019